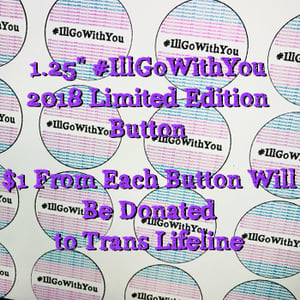 $

1.75
The 2018 limited edition buttons will be available until November 30th, 2018, with $1 from every button sold being donated to Trans Lifeline. The trans flag color bars on the 2018 limited edition button are made up of repeated text which reads "#TransLivesMatter".
"Trans Lifeline is a national trans-led organization dedicated to improving the quality of trans lives by responding to the critical needs of our community with direct service, material support, advocacy, and education."
"#IllGoWithYou allies go into bathrooms and other spaces with transgender people who may be afraid or concerned about their safety. An #IllGoWithYou ally offers support, buffering, and nonviolent assistance when asked."
Button Button designed the official #IllGoWithYou artwork, with the assistance of the team behind #IllGoWithYou. You can find out more about #IllGoWithYou at http://www.illgowithyou.org.
These 1.25" diameter buttons are coated with a clear high-gloss UV & weather resistant mylar finish, are backed with a steel pin-back, and feature a full color quality artwork print.
This item is not available for Expedited Processing & Shipping.
[* Photos of actual buttons will be available by November 9th. Current photo is of the graphic layout sheet, pre-cut.]