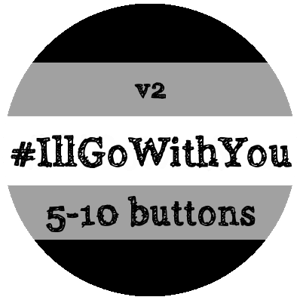 $

3.50 - On Sale
Many individuals within the trans community, some of whom are not "out" yet, requested a button design which could be worn and not be an overt signal for those who may suspect they are a member of the LGBTQ community, potentially putting a target on them.
We've also been called to recognize that our trans loved ones are not the only community members who need solidarity in public spaces and we want to offer an option for allies willing to provide assistance for anyone who may face harassment or discrimination in public spaces.
The new, additional version of the #IllGoWithYou button identifies the wearer as an inclusive point of safety, in spaces where discrimination or harassment may take place. An #IllGoWithYou ally offers support, buffering, and nonviolent assistance when asked.
These 1.25" diameter buttons are coated with a clear high-gloss UV & weather resistant mylar finish, are backed with a steel pin-back, and feature a full color quality artwork print.
Button Button designed the official #IllGoWithYou artwork, with the assistance of the team behind #IllGoWithYou. You can find out more about #IllGoWithYou at http://www.illgowithyou.org
This item is not currently available for Expedited Processing & Shipping. This item is currently on clearance - once they are gone, they are gone!
***INTERNATIONAL SHIPPING NOTE: If you would like to make a purchase, please contact us for exact shipping prices for your address. Please include how many buttons you'd like to order (along with any other items) and your shipping address, so we can give you a specific quote.***