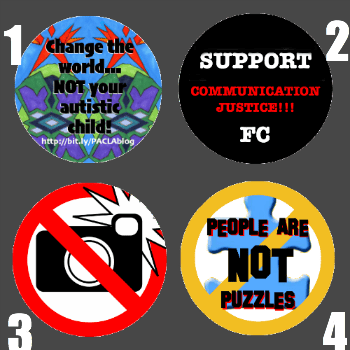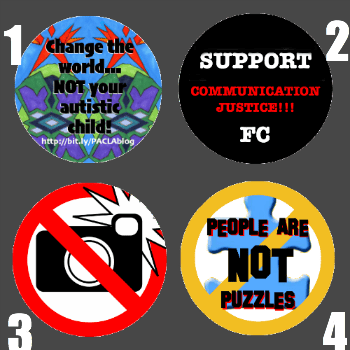 PACLA Buttons
$2.00
All 1.25" buttons are coated with a clear high-gloss, UV & weather resistant mylar finish, are backed with a steel pin-back, and feature a full color quality artwork print.
These four buttons are inspired by Parenting Autistic Children With Love & Acceptance...
1. "Change the world, not your autistic child!"
2. Support Facilitated Communication - you can read more about FC here.
3. Flash photography can be dangerous to those affected by epilepsy and other seizure-causing conditions. It can also negatively affect those who are autistic and/or have sensory processing issues. Wearing this button can show others you can't be exposed to flashes from cameras or other sources.
4. People are not puzzles! I am not a puzzle, nor am I missing any pieces. I am not an incomplete human who needs to be solved. You can read more about this at the Unpuzzled Project.
If you would like to purchase any of these designs in bulk (50+), please use the contact form to request more details.