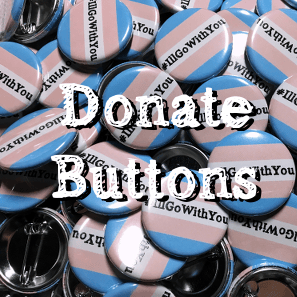 $

6.00
PLEASE NOTE: If you order DONATED buttons/handouts, you are donating 1.25" buttons to be passed along to organizations at no cost to them. YOU WILL NOT RECEIVE ANY BUTTONS ORDERED FROM THIS PARTICULAR PRODUCT PAGE. If you would like to receive buttons of your own (instead of or in addition to donated buttons), please visit our main product page and select the appropriate quantity!
If your organization or school would like to distribute buttons, please fill out this form.
"#IllGoWithYou allies go into bathrooms and other spaces with transgender people who may be afraid or concerned about their safety. An #IllGoWithYou ally offers support, buffering, and nonviolent assistance when asked." - illgowithyou.org"
Button Button designed the official button artwork, with the assistance of the team behind #IllGoWithYou, who is curating a list of not-for-profit/non-profit organizations & schools who would like to distribute 1.25" #IllGoWithYou buttons at no cost. We will providing buttons to these organizations & schools through donations.
Note: Occasionally, we receive requests for Pride and/or Pronoun buttons. These donations will also come from the collective button donations.
"Shipping" rates, when donating buttons, are calculated at a deeply discounted rate, to help cover shipping donor buttons.
NOTE FOR SHIPPING ADDRESS WHEN ORDERING ONLY DONATED BUTTONS: A shipping address is still required when ordering (as per our shopping cart provider). You can fill this out however you choose (it WILL accept fake addresses), but we do ask that you include your city & state/province + country at the very least. Thank you.