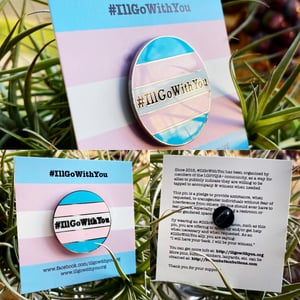 $

10.00
By popular demand, we have added enamel pins to the lineup!
(If available enamel pins sell out in the cart, please select the "pre-order" option and your pin will be shipped as soon as the next batch of pins are available! All pre-order items will also arrive with a code for 10% off your next order!)
---
These 1.25" diameter hard enamel pins are diestruck in silver-plated metal and polished to jewelry quality (similar to a cloisonné pin). They are backed with a solid metal stud pin and a black rubber clasp. They are individually bagged and attached to a backing card, with information about what being an #IllGoWithYou ally means.
Button Button designed the official #IllGoWithYou artwork, with the assistance of the team behind #IllGoWithYou. You can find out more about #IllGoWithYou at http://www.illgowithyou.org
[Shipping available worldwide. Please see the shipping information page for details on international shipping.]